Start Reading Mining, Metallurgy & Exploration
SME members get free electronic access to all the full-text papers of Mining, Metallurgy & Exploration and Minerals & Metallurgical Processing, and the option of a discounted rate on print subscriptions from Springer.

Not yet a member? Join SME now.
To sign up for a paid subscription, email Springer Customer Service at journals-ny@springer.com.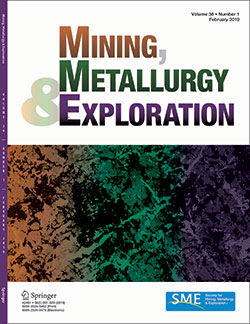 ISSN: 2524-3462 (print version)
ISSN: 2524-3470 (electronic version)
Previous ISSN: 0747-9182
About Mining, Metallurgy & Exploration
As SME's peer-reviewed technical journal published in partnership with Springer Nature, MME publishes high-quality, original research publications, in-depth special review articles, reviews of state-of-the-art and innovative technologies and industry methodologies, communications of work of topical and emerging interest, and other works that enhance understanding on both the fundamental and practical levels. MME was published under the name of Minerals & Metallurgical Processing from 1983 to 2018.
Why Submit to MME?
Journal impact factor of 1.9, and coverage in Web of Science.
Abstracted and indexed in Science Citation Index Expanded, Scopus, Google Scholar, Ebsco, ProQuest and many more
Online First publication in 16-21 days of acceptance.
Free electronic access by all SME members.
Extended abstract published in Mining Engineering.
Open Access option available.
No charge for publication.

Special Issues, Focus Issues, or Collections:
Mineral and Metallurgical Processing in Honor of Professor Emeritus Douglas W. Fuerstenau (2019)
Fourth Industrial Revolution in Mining/Emerging Technology (2019)
Critical Minerals Part I (2019)
Critical Minerals Part II (2020)
Miner Health and Safety Part I (2020)
Miner Health and Safety Part II (2021)
Managing Gangue Minerals (2021)
Tailings Management (2021)
Collection in Honor of Professor Emeritus Frank F. Aplan (2022)
Collection on Ground Control in Mining (2022)
Collection on Mine Ventilation (2022)
All About Metallurgy: Collection in Honor of Dr. Patrick Taylor (2023)
Geometallurgy (2023)
Ground Control in Mining II (2023)
Underground Ventilation (2023)
Application of AI and Machine Learning in Mining (2023)
Intelligent Mining: Innovation, Vision, and Value (2024)